Welcome to The McNeill Group | Charleston Tax Attorneys
The Charleston tax lawyers at the McNeill Group, LLC have been actively serving clients throughout the Lowcountry for over 20 years. Our progress and success has been the outcome of our obligation to our individual clients' needs, inclusive business practices and continuous knowledge. Since 1980, we have constructed an extraordinary name of providing moral and affordable business and tax legal services to a numerous range of clients.
Our Charleston tax attorney's standards are engrained by former practice, knowledge and mounting levels of performance. The Charleston tax attorneys of the McNeil Group provide legal services to our clients with individualized attention, effort and communication. When our client's legal goals involve one or more practice areas, we assemble of a team with the suitable tax lawyers. This allows our clients to have a personal team with the essential legal knowledge to provide comprehensive and effectual legal services. This has proven to utilize the abilities of our Charleston tax attorneys helping our clients understand that our willingness to focus on their case is our main priority, enabling us to provide the best presentation we can.
If you are starting your own a business, be sure to Contact Us today to avoid any future legal issues.
For more information, Contact Us during regular business hours at (843) 881-1066.
Have any questions, send us an Email and we will get back to you.
Our Areas of Practice Include:
Formation of Corporate and Business Entities
Business Sales, Mergers, Acquisitions, and Liquidations 
1031 Like-Kind Exchanges, including Reverse Exchanges
Estate Planning, Wills, and Trusts
Probate and Estate Administration
Tax Law, including Offers in Compromise
Our Location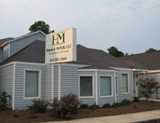 We are located in Lafayette Village at 800 Johnnie Dodds Boulevard in Mt. Pleasant, just minutes from downtown Charleston and convenient to I-526.